Godbye fast fashion, hello slow fashion. The age of the flash-in-the-pan trend is over; the lifespan of the trends that matter is now counted in years, not months.
Join the slow lane in these relaxed looks that will see you through spring, summer and beyond
To put this in broadsheet language, slow fashion is fashion's third way. No need to make a stark choice between buying into the fast-fashion cycle (consumerist horror show, but jazzy) and swearing off fashion altogether (admirable, but a bit joyless). Slow fashion charts a different course. It is about looking agreeably current, rather than up-to-the-minute. It is about nailing the hemline or the dress shape that defines the decade, rather than the season. It keeps one eye on fashion, but its feet on the ground, remembering that clothes are not disposable.
This is an exciting moment. You know that thing when something really complicated goes wrong, and the first thing you do is turn it off and then on again? And sometimes, it works? Well, that's basically what we've done to fashion. It's had a reset. Fashion was on pause for the pandemic, but now it is back on – and it's better than it was before.
The Saturday-morning blouse
We're looking for the third way. So if the white shirt is the ultra-sensible eternal classic, while a puff-sleeved blouse in pink gingham with an outsize broderie anglaise prairie collar would be this season's hot take, we are aiming somewhere in between. Let's call it the Saturday-morning blouse. Maybe you have a vintage French one in your wardrobe, which you picked up at a market while shopping for baguettes and cheese on holiday, all flirty and bohemian and déshabillé, like Emmanuelle Béart in Manon des Sources. It could be silky and richly coloured, or the sort of sweet-natured blouse a March sister would have worn in the most recent Little Women film. If you don't do frills, it could be an oversized, mannish cotton shirt with a ticking stripe. It should be fancier than a T-shirt, but less proper than a shirt. It is invaluable for bringing Saturday-morning vibes (the best ones) to every day of the week.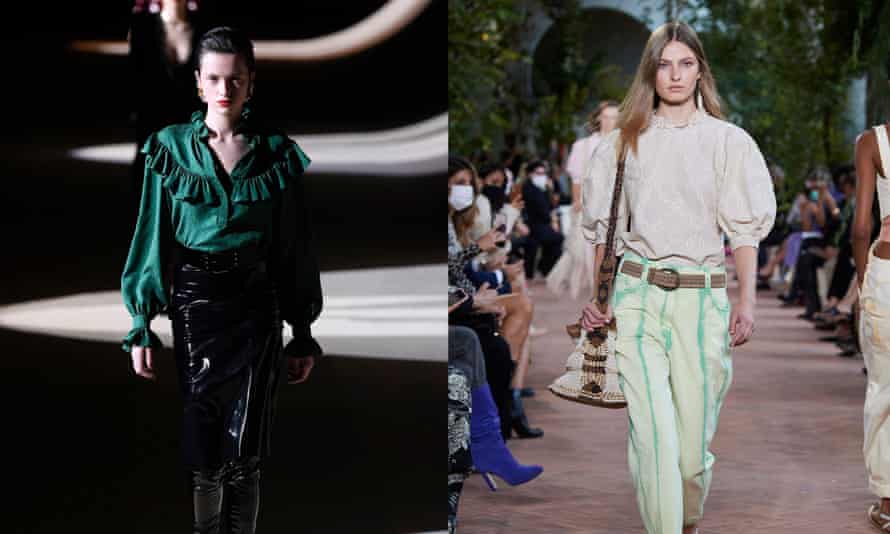 The smart cardigan
Quite a lot of the cardigans currently on the high street are offered with matching bra tops to be worn underneath. This tells you everything you need to know about how the cardigan's star has risen, and how its target demographic has changed. The cardigan to consider for inclusion in your slow-fashion capsule wardrobe, however, isn't the ab-flashing twinset. The slow-fashion cardigan is oversized and chunky, but smart. The sort of thing Coco Chanel wore in Scotland with brogues and pearls, rather than the kind you wore in the sixth-form common room with your thumbs sticking through the holey cuffs. Colour, braid-trimmed pockets, brass buttons are all an asset, so don't go too neutral. To be a true wardrobe treasure, your slow-fashion cardi should be a trophy piece, not the kind that gets slung over a chair and forgotten about.